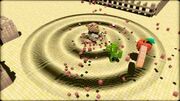 The Normal Map is a type of Shader Magic, obtained after clearing the Desert Temple. The Normal Map allows you release a wave that strikes the ground and damages nearby enemies. It should also be noted that the ground waves push enemies back upon impact, recucing its overall usefulness. However, when used against bosses, this "bounce back" effect does not apply.
Normal Map costs three magic for male characters and two for females.
The name was made fun of by Lee for not being consistent with what it does
Ad blocker interference detected!
Wikia is a free-to-use site that makes money from advertising. We have a modified experience for viewers using ad blockers

Wikia is not accessible if you've made further modifications. Remove the custom ad blocker rule(s) and the page will load as expected.